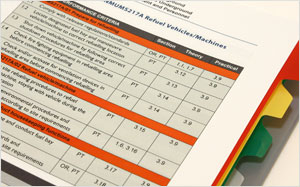 All sites have a need to develop documentation to help keep employees, contractors and visitors safe and to minimise the risk of damage to infrastructure and the environment. The problem is that to create good documentation, the writer must understand risk management processes and also have the ability to logically and concisely compile and deliver information to the reader. Pertrain technical writers are supported by graphic artists, IT specialists, layout personnel and instructional designers, to develop documentation that will enhance your organisation's reputation for quality. Pertrain realises that companies and industries use different terminology and writes documents accordingly. An example on one document type is:
Standard Operating Procedure (SOP)
Standard Work Practice (SWP)
Safe Work Procedure (SWP)
Standard Work Instruction (SWI)
Pertrain understands that well written procedures:
standardise operations
create a framework for all business decisions
increase organisational accountability and transparency
ensure compliance with laws, regulations and industry requirements
reduce risks to the organisation, the employees, contractors, visitors and clients.
At Pertrain we take the time to discuss your organisation's vision, goals and current work practices before writing policies and procedures that suit your organisational climate and mode of operation.